Resort Living
Love the relaxed park lifestyle? Would you like to permanently live in a holiday park atmosphere? Well you can now! The Palms at Avoca currently have a range of residential houses to purchase in the manufactured housing estate. For more info please give Mandy Fuller a call on 02 4382 1227.
Build the house of your dreams or we have a fantastic range of sites ready to "Buy off the plan". Check below for the homes soon to be constructed and their plans.
BUY OFF THE PLAN LISTINGS
There are a number sites ready for construction with great floor plans to choose from. To see the stylish floor plans of properties yet to be constructed, please click the link next to the address.

RECENTLY CONSTRUCTED AND SOLD
Site F4 at The Palms at Avoca -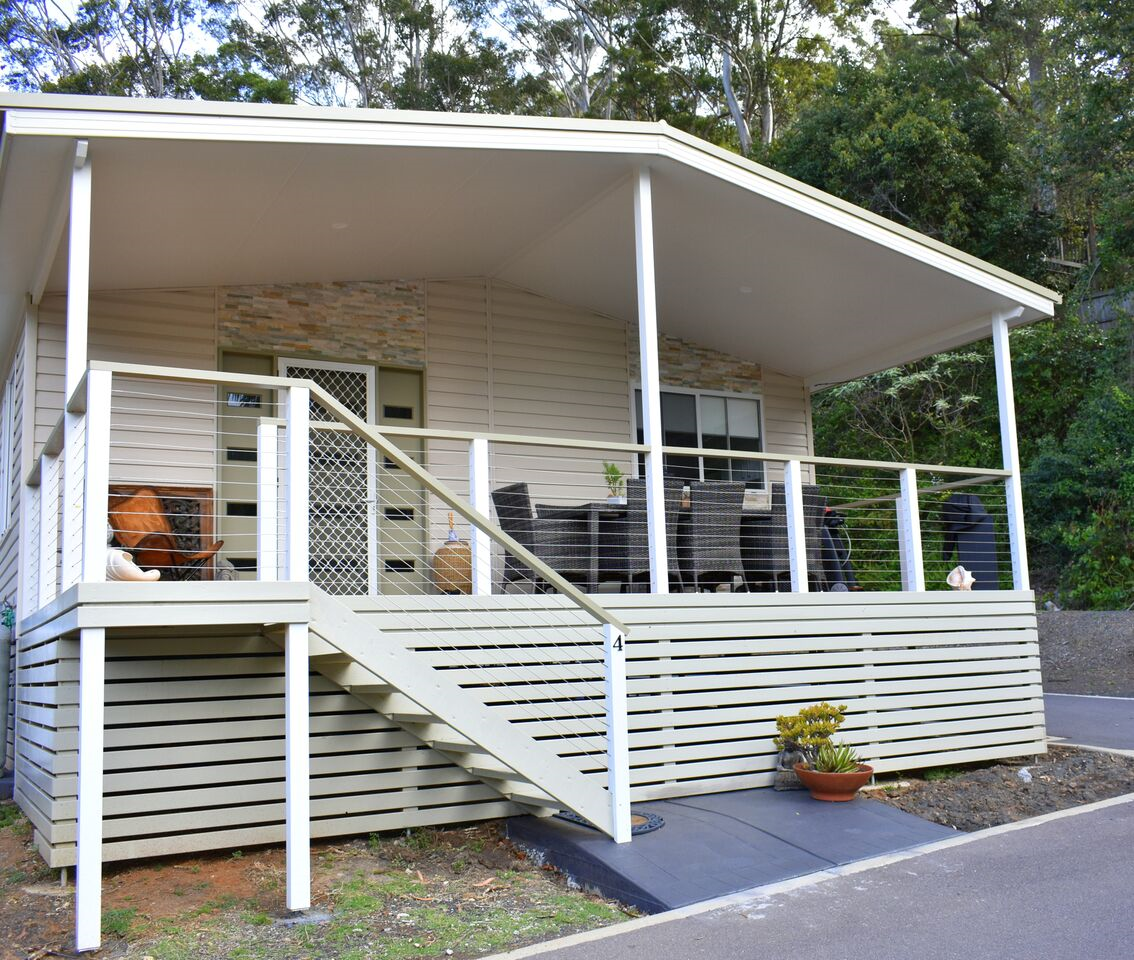 G09 Date Palm Avenue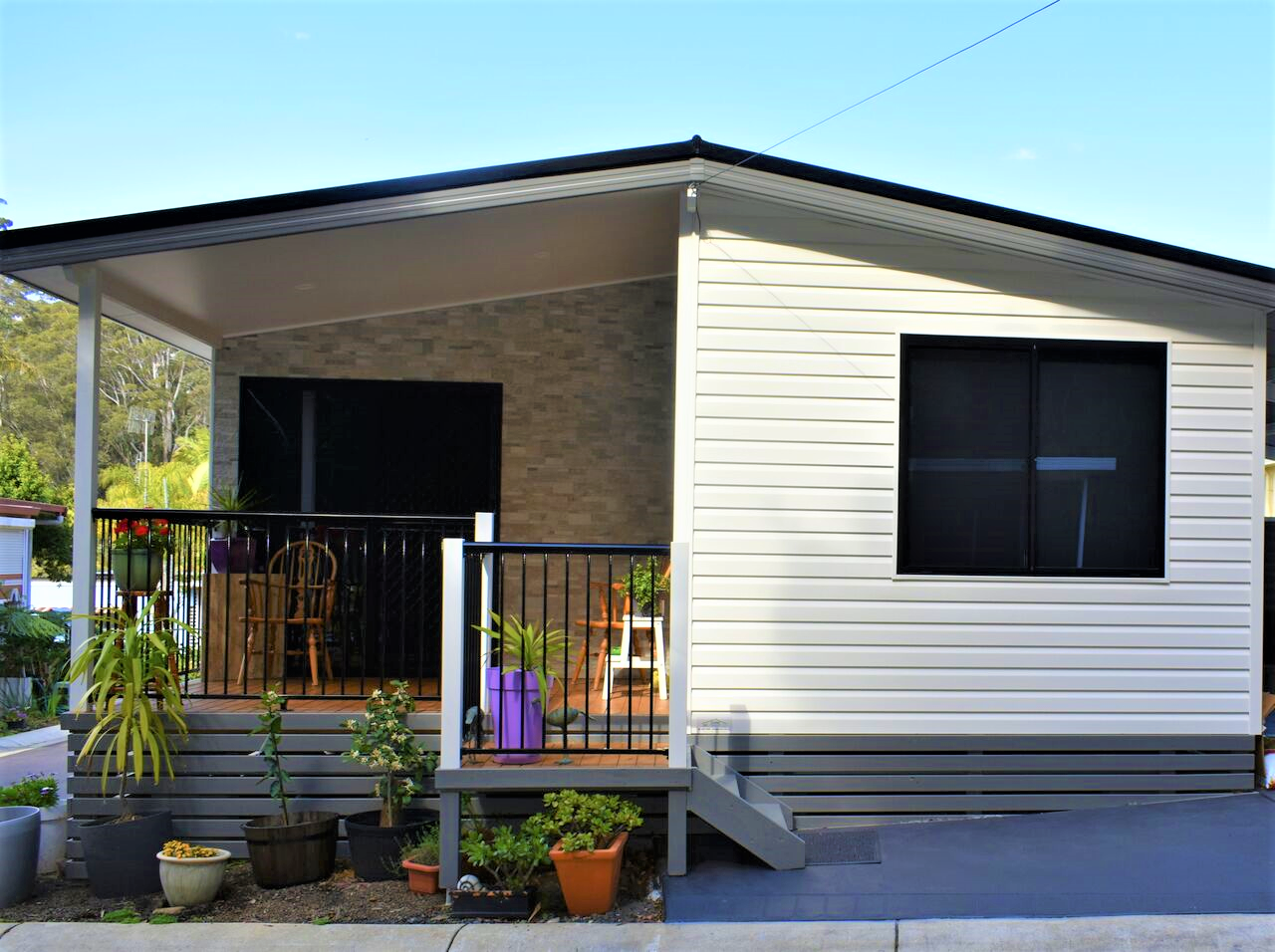 I14 at The Palms at Avoca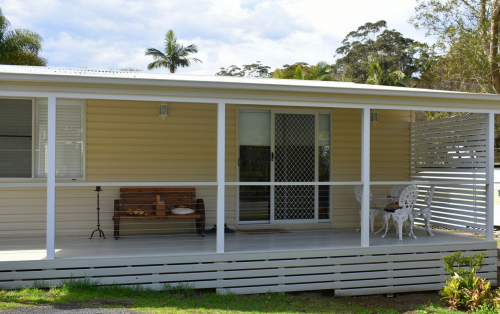 RECENTLY SOLD
The following properties were SOLD at The Palms at Avoca recently. We have left the floorplans below so you can peruse the various options available for your new house!
---
HOUSES SOLD
I03 Cotton Palm Avenue, The Palms at Avoca - SOLD
---
I05 Cotton Palm Avenue, The Palms at Avoca - SOLD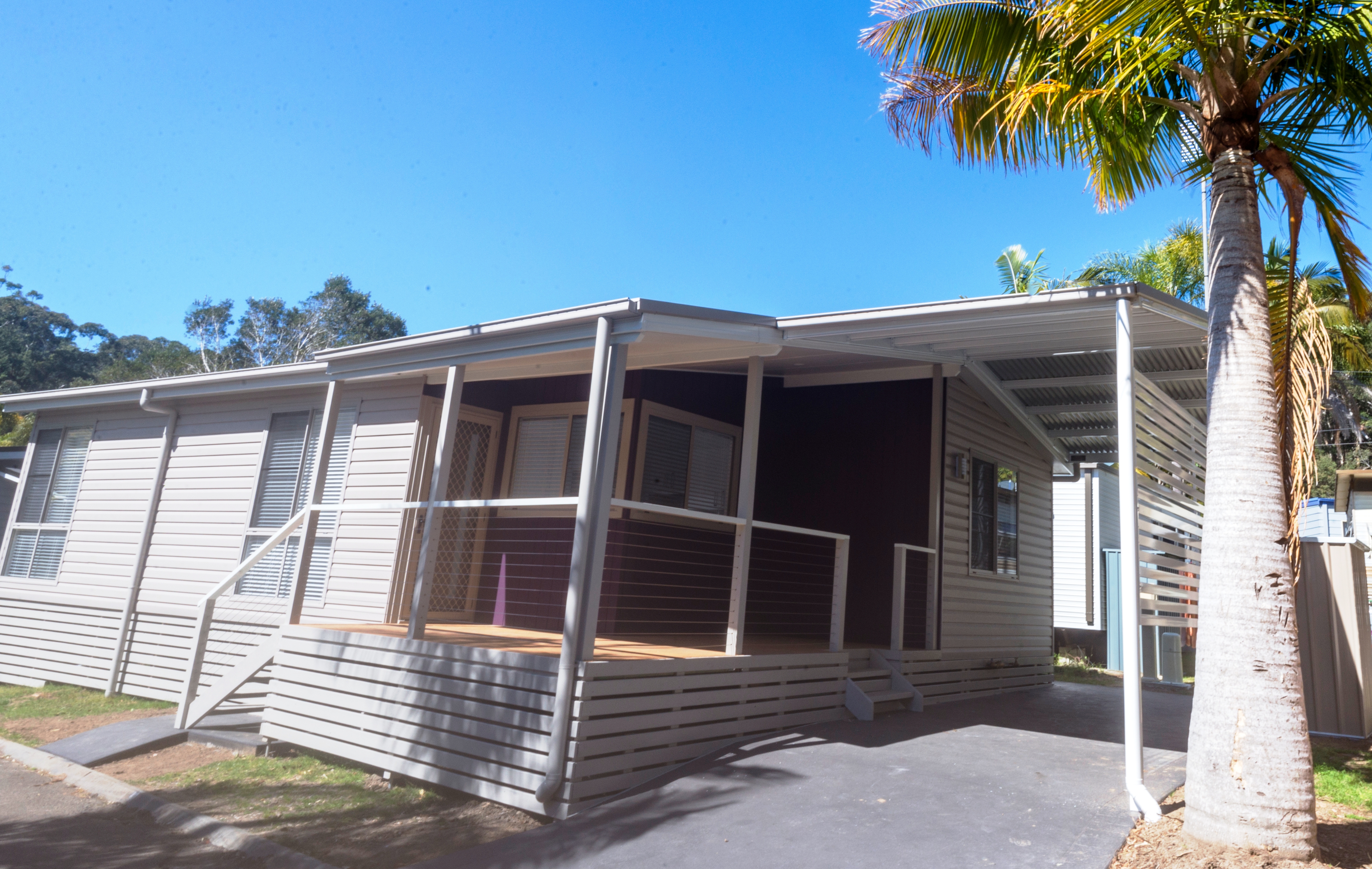 ---
D07 Cocos Avenue, The Palms at Avoca - SOLD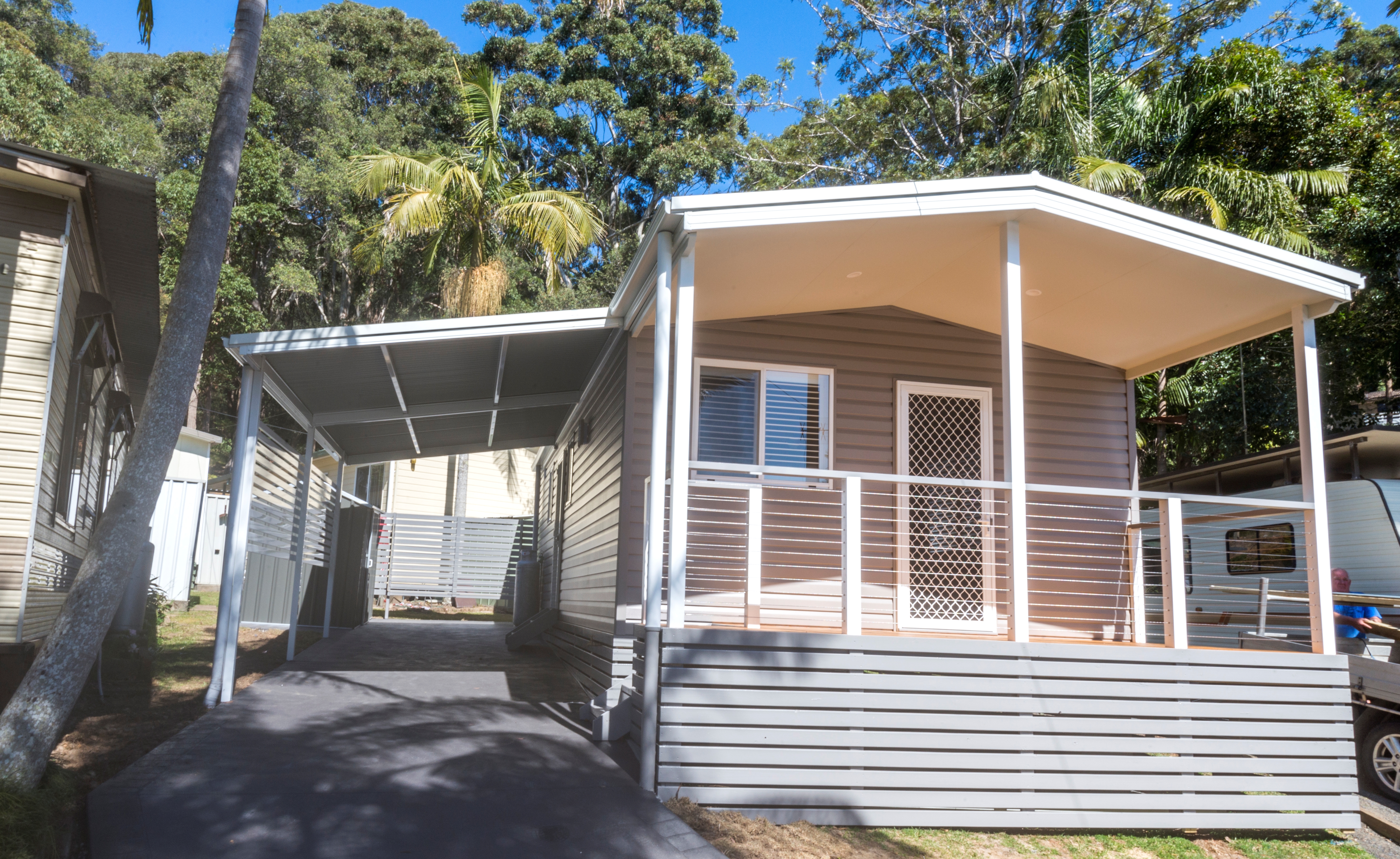 ---
I01 Cotton Palm Avenue, The Palms at Avoca - SOLD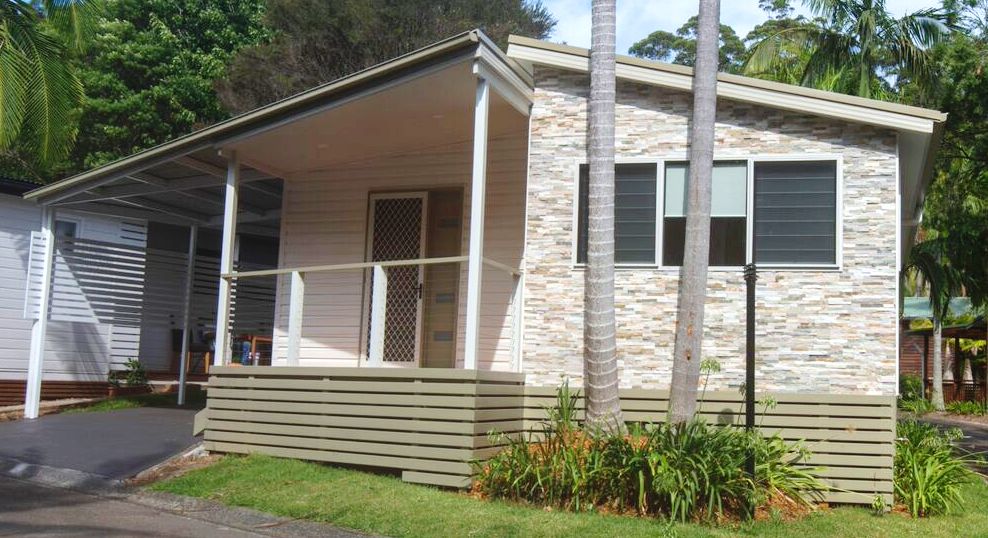 ---
J3 Bamboo Ave, The Palms at Avoca - SOLD
Stylish brand new 2BR click here for more information

---
K22 Kentia Avenue, The Palms at Avoca -SOLD

---
FAQS ABOUT LIVING AT THE PALMS AT AVOCA
We have listed many of our frequently asked questions about living at The Palms at Avoca below!

LIVING COSTS AT THE PALMS AT AVOCA

Ho much will it cost?
Weekly fees start at $161.00 per week. Direct debit is our preferred method of payment.
Any additional charges?
Electricty charges. Electricity is read every bi-month. The access fee is 23cents per day being electricity from the power box to your dwelling and the rate is currently $0.199000 per kilo watt.
Water and Garbage are not chargeable at present however water meters are currently being installed.

Rent increases
Rent increases are in conjunction with CPI on the March quarter each year.

Is rent assistance available?
Rent assistance is available to eligible persons, however you need to contact Centrelink directly.
LEASE INFORMATION

What governs the lease?
The lease is in conjunction with (MHIA) Manufactured Housing Industry Association on behalf of Residential Park Living Laws.

Do I own the land?
No, you do not own the land however you do own the dwelling on it.

What if the park is sold?
The owners have owned the park for over 25 years and currently have no intention of selling.
LIVING INFORMATION FOR THE PALMS AT AVOCA

Can I have visitors (stay)?
Yes you can have visitors stay with you in your dwelling, however maximum allowed is 6 persons and you are responsible for their actions.

Pets?
Pets are allowed however conditions apply.

Car Parking
Each permanent dwelling is allocated one car spot only. Visitors may park in The Palms at Avoca during off season and outside on the street during peak season.

Park Management
Park Managers reside on site and are available during business hours and are also contactable during emergencies purposes.

Mail
Mail is directed to our business PO Box and is picked up on a regular basis and is ready for collection at reception after 2.30pm each day.
CHOOSING YOUR LIFESTYLE
What's so good about The Palms at Avoca?
It's a relaxed resort atmosphere, family friendly with a mixture of tourist and permanent residents.

What facilities are available?
Click here to have a look at our Facilities Page or take a Tour of the Park.
We have a beautiful resort pool complex with 2 x swimming pools, 1 x heated outdoor spa and sun lounges. Great bbq facilities, a playground, games room, library and bird aviary.
Are you an over 55's park?
No, however most of our permanent residents are over 55 and unfortunately we do not allow children living in the park permanently.


Can my children/grandchildren use the facilities?
Yes! Visitors are most welcome as long as the children are supervised at all times by a responsible adult.

Do you have a village bus?
No there is no village bus.
Is there public transport?
Yes, buses go to Kincumber, Erina Fair & Gosford Railway Station on a daily basis, outside the park.
Where is the nearest shopping centre?
Kincumber Shopping Village is located less than a 10 minute drive and Erina Fair is within 15 minutes drive.
How far away if Avoca Beach?
Avoca Beach is a 5 minute drive from the park and it takes approximate 20 minutes walk down to the beach.
Can I visit the park for inspection purposes?
Of course however only by appointment, so please call 4382 1227 during business hours 9.00am to 5.00pm
Is there local shops within walking distance?
Yes there is a general store within walking distance from the park and a variety of great shops, cafes and restaurants at Avoca Beach.
Call Mandy Fuller for more information on 02 4382 1227 and start the process of a new life at The Palms at Avoca!